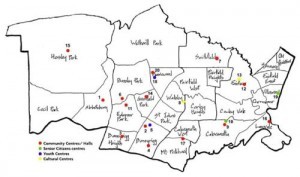 Location
Wetherill Park is a suburb of south western Sydney, in the state of New South Wales, Australia. Wetherill Park is located 34 kilometres west of Sydney central business district, in the local government area of the City of Fairfield and is part of the Greater Western Sydney region.
Brief History
Wetherill Park was named after a businessman who offered 21 acres of his property to the State government as a park. The offer was accepted and the park was names after the donor. The first settlers set up their homes north of the present school site at Wetherill Park. One hundred years ago, there were not enough homes in this suburb to need a school. With the commencement of the Prospect Reservoir Waterworks, a local storekeeper, Samuel Booth, made available a section of his land for a school, free of charge. The school called 'Macquarie Park' opened in May 1882 with 8 children but it was changed in June 1882 to 'Boothtown' for Samuel Booth's involvement in the establishment of the school. In 1884 it became Reservoir Public School and in 1896, it became the Wetherill Park Public School.
A characteristic of Wetherill Park is that all the streets are names after famous writers. Some examples include: Vidal Street (for Gore Vidal), Shakespeare Street (for William Shakespeare), Stevenson Street (for Robert Louis Stevenson), Locke Street (for John Locke), Gogol Place (for Nikolai Gogol), Swinburne Crescent (for Richard Swinburne), Homer Street (for Homer), Ermerson Street (for Ralph Waldo Emerson), Wordsworth Street (for William Wordsworth), Dickens Road (for Charles Dickens), Longfellow Street (for Henry Wadsworth Longfellow), Chaucer Street (for Geoffrey Chaucer), Ainsworth Crescent (for William Harrison Ainsworth), Coleridge Road (for Samuel Taylor Coleridge), Frost Close (for Robert Frost), Gissing Street (for George Gissing) and Langland Street (for William Langland).
Commercial Areas
Stockland Wetherill Park is a major shopping centre in the area and houses over a 120 retails stores. Wetherill Park is home to the largest industrial estate in the Southern Hemisphere, with companies such as Jaguar, BMW and Mercedes situated in the area.
Transport facilities
The T-way bus route opened in 2003 and runs partly through Wetherill Park. It is also located close to the Westlink M7 Sydney Orbital motorway, which opened on late 2005. Other major motorways running through the area are the M4 and M5, all of which link up to the M7.